Here at Eastern Suburbs Pool Cleaner, we take care of the management of your swimming pool so that you can spend more time enjoying the pool itself.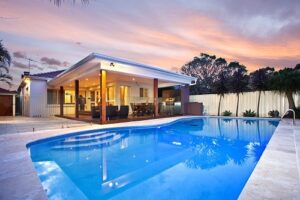 We look after everything to do with swimming pools. From new pool construction and building, repairing old and broken pools, treating neglected green pools ready for use in the hotter months and installing new pool equipment.
But our most common request is for our regular pool cleaning service that can be arranged as a weekly, fortnightly or even monthly service. Speak with us to discuss your unique requirements so that we can best serve you.
Remove the hassle of constantly testing the chemical levels in your pool and rest assured that we have you covered.
We service the Eastern Suburbs of Sydney on our regular schedules and can easily fit you in. However please be noted that booking ahead is critical and the later in the week it gets, the harder it may be to fit you in for any emergency requests.
Call us today for a free quote and get the convenience of our reliable and worry-free pool cleaning service.
Swimming Pool Services to Keep Your Pool Looking Its Best
Keep your Eastern Suburbs pool looking its best all year round. Call us on (02) 8880 9059 or: