We supply and install a large range of quality salt water chlorinators. With expert advice and a handy installation service from our experienced pool technicians, finding the right chlorinator for your swimming pool couldn't be easier.
We stock trusted brands at competitive prices. For the right advice and up-to-date inventory, give us a call today.
Having a salt water chlorinator system installed on your swimming pool is a recognised way of keeping your pool sanitised by eliminating bacteria and algae. As salt chlorinators produce their own chlorine, pool owners don't have the worry of buying, safety storing and handling chlorine. A huge benefit when it comes to safety, efficiency and reducing on-going costs.
A salt water chlorinator is a key piece of equipment important for a pools regular maintenance service, keeping the water clean, sparkling and safe to swim in all year round.
Pool Chlorinator Not Working?
Does your swimming pool have murky water? Have you noticed low chlorine levels when testing your pools chemicals? These are tell-tale signs your pool chlorinator may not be working and may need repair. There are a few factors that can contribute to this, including a dirty salt chlorinator cell, incorrect running hours or a broken chlorinator.
To have a qualified pool technician take a look at how your pools salt chlorinator is configured, contact us. If you don't own a self-cleaning chlorinator or you're not in our regular pool cleaning program, we'll also teach you how and when to clean your chlorinator cell which will help you keep your pool chlorinator functioning at its best.
Chlorinator Installations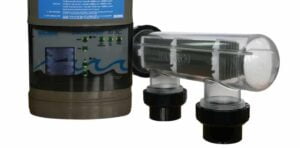 If your pool chlorinator is beyond repair you may require a replacement.
A salt water chlorinator is a complex system that has to be set for each individual swimming pool. If not installed and programmed correctly, incorrect chlorine levels could lead to serious health issues for you and your family. Our expert pool technicians will take the time and hassle out of replacing a chlorinator system.
Give us a call today for the best advice and installation services for swimming pool salt water chlorinator systems.
Salt Water Chlorinator Sales and Installations
Keep your pool functioning it's best with a new pool chlorinator fully installed.