We supply and install a large range of quality pool pumps. We stock major and reliable brands at competitive prices. Along with expert advice and a hassle free installation service from our qualified pool technicians. You can have peace of mind knowing the job is done right.
If you're in need of a replacement pump or looking to buy a pool pump for a newly installed pool, contact us for our up-to-date and latest inventory.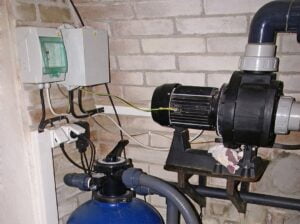 A pool pump is the key component for your swimming pools health. Some refer to pool pumps as the heart of the pool. It keeps the pool water flowing by pushing it up through the pump filter and back out again. Dirt and debris are removed from the water as the pump pushes it through the filtration system.
Pool Pump Not Working?
Does your pool have dirty or murky water? Or worse, do you have a green pool? Sounds like your pool pump isn't working. So do you need a new pump or does it only need a repair? If unsure, contact us to have one of our qualified pool technicians come take a look at the problem, costs can be reduced if it's only a general pool pump repair.
For the health and safety of your pool, call us today if your pump isn't working.
Pool Pump Repairs
If you're experiencing any irregularities or have any concerns with your swimming pool pump, give us a call. We'll have one of our pool technicians check out the issue so we can offer the best suggestion for repairing your pool pump.
A common problem seen when your pool pump needs repair is leaking. Poor chemical balances in the water can cause rust and unseen rust can cause major issues with a pools pump. Other factors that can contribute to pool pump damages are incorrect water levels and faulty parts, our technicians will recommend affordable ways to repair your pool pump.
We also suggest taking a look at our regular pool maintenance service, during visits our mobile pool technicians perform standard checks on your swimming pool and equipment making sure everything is always working at its best.
Pool Pump Installations
Not only do we provide great prices on new pumps but our qualified pool technicians also perform pool pump installations. You can relax, knowing your pool is being looked after by the professionals.
For more information on brands, prices and the types of installation services we offer, give us a call.
Pool Pump Care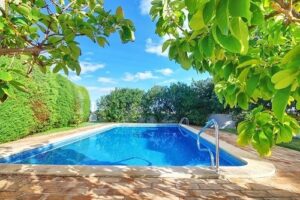 How long should you run your pool pump for?
To find out the best timings for your swimming pool, it is best you speak to one of our pool technicians.To determine the best timings, we'll ask you about the pool size, pump equipment, how often the pool is used and location.
Operating your pool pump for the minimum timings per day will see that the costs of your swimming pools maintenance are kept low. The constant flow of water keeps your swimming pool healthy and significantly reduces the chances of turning into a green pool.
When it comes to pool pumps, bigger isn't seen as being better. Multi-speed pool pumps are often more efficient. By selecting the right speed for the job (for example, high speed for pool vacuuming and low speed for filtration), energy bills will be reduced. This is due to the fact that most of a pool pumps run time is working on the filtration system. Running a pool pump on its low speed setting for the majority of the time allows the pump to be on longer, filtering more debris and improving the waters clarity.
If you are looking at purchasing a new pool pump it is best to consult a professional, we will be able to recommend and install a suitable pump to suit your swimming pools size and conditions.
Repair Or Replace Your Faulty Pool Pump
We supply and install a range of pool pumps for all Sydney Eastern Suburbs pools.